The CALM you need to beat stress and brighten your mood
Uncertainty is all around us, more today than ever before. Our bodies and minds are under constant stress, and there's a very real chance it's affecting how you feel. If you're feeling emotionally drained, mentally exhausted, frustrated, powerless, or just… down and having trouble coping with the demands of everyday life… it's your body's way of saying,
"ENOUGH! I need a break!"
When the world is changing faster than your body can keep up with, you need a little something to help adapt to the tough times.

That's why Dr. David Williams spent years searching for a safe, effective way to improve how your body responds to stressful situations—so you'll feel in control again. AshwaBright™ Stress & Mood is a unique combination of KSM-66® Ashwagandha, Zembrin®, and B vitamins that will help you better cope with whatever comes your way. One daily dose and you'll feel relaxed, focused, energized, and HAPPY!
Features research doses of KSM-66® Ashwagandha extract and Zembrin!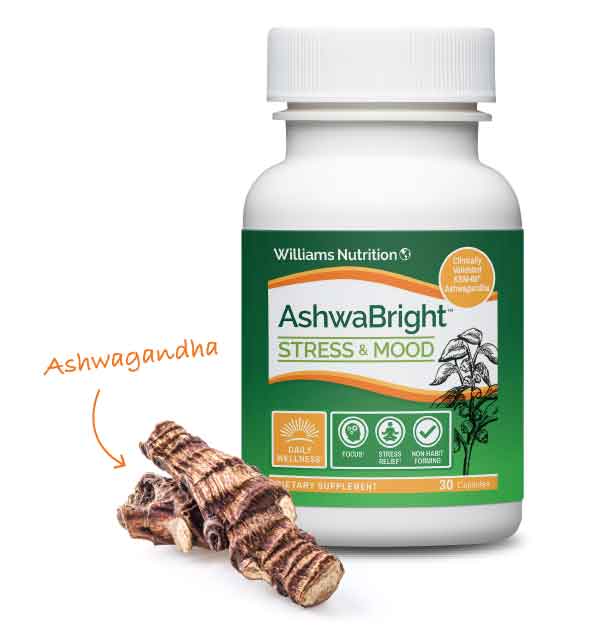 Promotes positive mood and outlook
Helps your body adapt in stressful times
Supports better sleep
Improves focus and sense of calm
Supports healthy weight management for those under stress
Boosts sexual health
Features clinically validated KSM-66® ashwagandha
Non-drowsy, Non-habit-forming
Glad I tried it!
"Noticed a pleasant calmness and definitely better sleep early on. Really glad I tried this supplement." — Online Review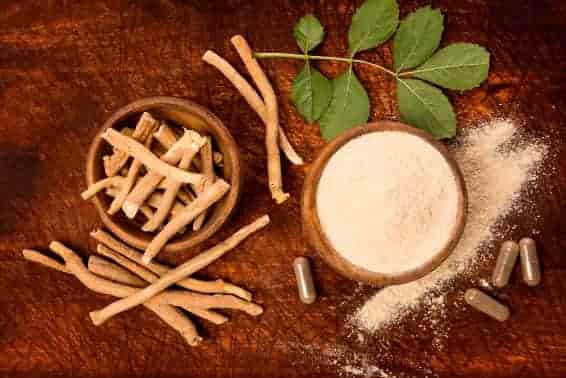 The stress-relieving power of KSM–66® Ashwagandha extract
The star of the formula is clinically studied and award-winning KSM–66® ashwagandha extract. This powerful, natural adaptogen is a highly concentrated root extract and is considered to be one of the world's best ashwagandha extracts. It's been shown to help brighten your mood and relieve stress while enhancing sleep quality, mental and physical well-being, and your overall quality of life. Plus, it supports healthy weight management when under stress as well as sexual health.
Sends "stress hormone" levels plummeting
One study in particular showed that individuals taking 600 mg of KSM-66 (the same amount as in AshwaBright) saw a significant reduction in levels of cortisol—the body's primary stress hormone—and fewer feelings of stress. Individuals were then given well-recognized psychological questionnaire tests to measure the effect of KSM-66. Test scores showed a significant improvement in stress and anxiousness plus an improvement in associated sleep quality.1
Keeps your mind sharp and clear
Being able to focus and function during times of stress and worry is critical—you need to be able to think clearly and have enough on-your-toes energy to stay on top of everything you need to do every day. That's why this next study is so exciting—it shows that compared to a placebo, a 600 mg daily dosage of KSM-66 ashwagandha for a period of 8 weeks improved immediate, working, and general memory function along with measures of executive function, attention, and information processing.2 Studies also show that 600 mg of KSM-66 ashwagandha improves female sexual function and feelings to enhance sexual health. Plus, it helps support a healthy body weight when you're under stress.3,4
1Salve J, et al. Cureus 2019, 11(12): e6466.
2Choudhary B, et al. Ayu. 2015;36(1):63-8.
3Dongre S, et al. Biomed Res Int. 2015;doi:10.1155/2015/284154
4Choudhary D, et al. JEBIM. 2017;22(1):96-106.
Paired with ashwagandha, this little known South African extract is changing lives
Zembrin is a traditionally used patented extract from carefully selected Sceletium tortuosum plants native to South Africa. The native San Bushmen of South Africa refer to this magical plant as "kanna," "channa," or "kougoed," meaning a "restorative, cheerer of the soul." And they've used it for centuries. Written records from European explorers, dating back over 300 years, also document the plant's beneficial effects.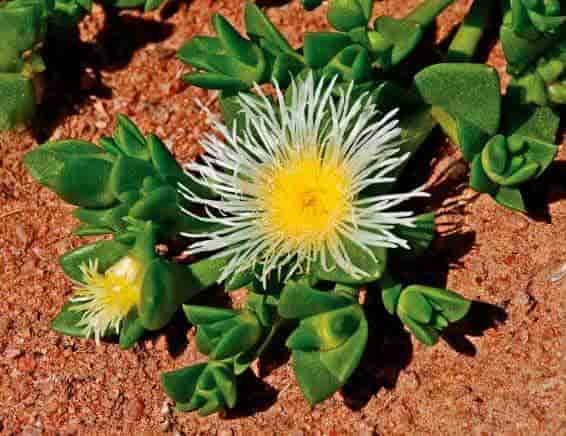 Today, supplies are closely guarded, and exports are tightly controlled to ensure sustainable harvests. Fortunately, we have secured a supply for AshwaBright. It's the only form that's been approved and endorsed by The South African San Council. And it's the only form that comes with such remarkable research.
This extract is prized for its unique ability to support cognitive health and executive function and improve sleep quality. In a clinical study, participants taking Zembrin showed an increase in cognitive flexibility (multitasking) and executive function (planning and focus). It's safe to say that Zembrin can help improve your mental quality of life.
Active B vitamins to replenish your body
AshwaBright also includes a trio of active B vitamins—B6, B12 methylcobalamin, the most active form in the body, and a super bioavailable form of folic acid called Quatrefolic®.
These powerful nutrients support normal homocysteine levels which are critical for cardiovascular health. They're the perfect complement to the ashwagandha and Zembrin in AshwaBright.
Enjoying life again!
"Now, I'm venturing out, enjoying my hobbies again. I can't imagine life without AshwaBright." — JB
Side Effects to Watch Out for:
Spontaneously Bursting into Song
Constant Smiling
Less Fatigue
Increased Motivation
Faster Thinking on Your Feet
Better Control of Your Life
AshwaBright is 100% safe, non-addictive, gluten-free, and backed by our 100% satisfaction guarantee. Unlike alternatives, it truly supports your health.
Now is the time to see for yourself how good you'll feel. See how calmly you'll react to stressful situations and how much easier it will be to stay in control—take advantage of this exclusive offer while supplies are available.
EXCLUSIVE OFFER!
Try AshwaBright Stress & Mood
At a Special Low Price—Risk Free!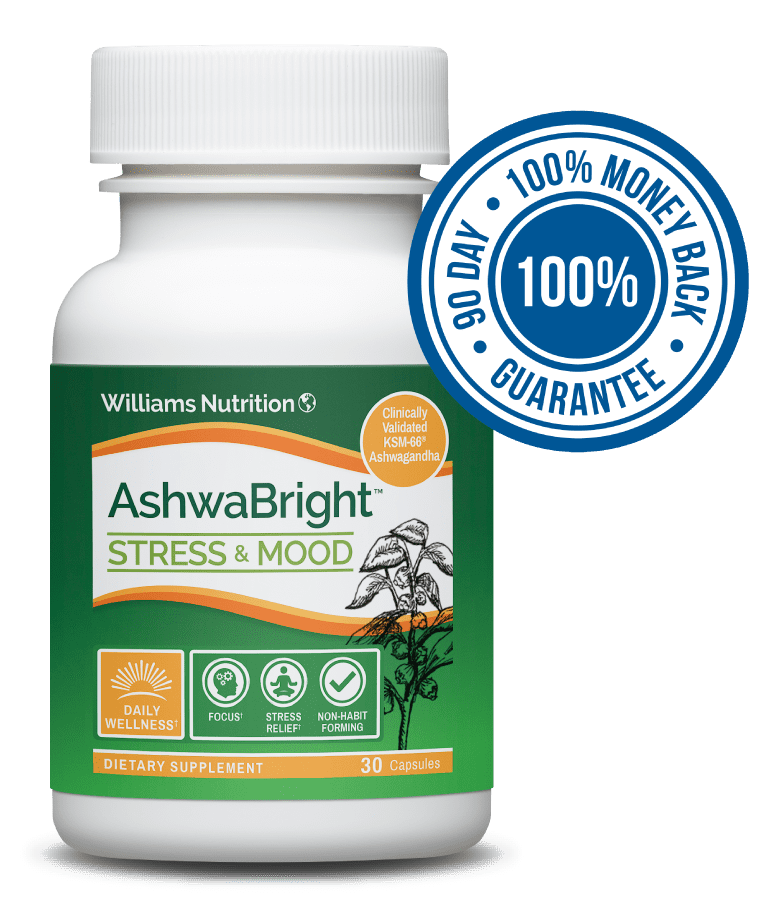 It works!
"I love taking AshwaBright . It has helped my mood tremendously over the last 6 months." — Patsy M.
Are you more stressed than you think?
Here's what your body's "alarm system" may be trying to tell you:
Lack of focus
The inability to pay attention to or plan for the tasks you are working on.
Inability to multitask
Trouble handling more than one task at a time.
Waking up groggy
Even though you go to bed on time, you wake up feeling groggy and sleepy the next morning.
Poor sleep
You go to bed on time, but you wake up knowing you just didn't sleep well.
Food cravings
When you just "have" to reach for that snack, even though you aren't hungry.
Low sex drive?
Are you a woman lacking in sexual desire or having trouble getting aroused?
If you're struggling with silent stress, help is on the way!
Now you can take control of the stress around you
by giving your body what it needs to adapt.
Try AshwaBright Stress & Mood and get back to feeling like yourself!
Great product!
"Dr.Williams' AshwaBright Stress & Mood seems to be helping me to remain optimistic in this time of stress!!" — Tina S.
AshwaBright Stress & Mood is Doctor Formulated!
Dr. David Williams is a medical researcher, biochemist, and chiropractor who has devoted his life to researching and finding avenues for natural and holistic well-being. Often years ahead of the conventional medical establishment, Dr. Williams has travelled the world investigating holistic treatments for almost every major health concern. His travels have spanned six continents and innumerable countries, and he has identified almost 30 breakthrough ingredients that he has incorporated into treatments and supplements that are safe, effective, and harness the power of the world's best healing philosophies.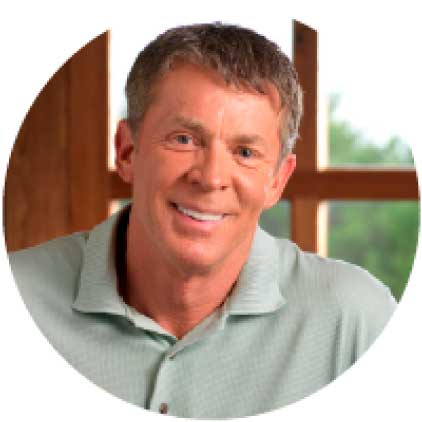 Makes a huge difference!
"I seldom sang to myself, and never out loud, before I tried AshwaBright. Starting soon after the first day I took it, I found myself singing happily…I generally feel better, happier. I've taken it every day for probably 6 months and it's made a big difference for me. I'm more calm and able to take things in stride." — Online Review
"I have my husband take AshwaBright Stress & Mood now too—it may be better than marriage counseling."—Barbara B.
"This product definitely improves both my mood and my mental clarity." – Paiselypup
"Very happy with product took it and seem more relaxed and not on edge." – Rick
"I have been taking AshwaBright Stress & Mood for several months and feel that it helps me to handle stress more gracefully than I otherwise would be capable of." – Gail B.
"I have been using this for several years now and it does work for mood stabilization." - Frankie
Quality Promise
AshwaBright Stress & Mood is formulated to meet stringent quality standards, with thoroughly screened raw materials, 100% batch testing, and independent verification of purity and potency.
EXCLUSIVE OFFER!
Try AshwaBright Stress & Mood
At a Special Low Price—Risk Free!